About us
Shank Building and Design, Inc., formed in 2003, is a husband and wife contracting team specializing in home remodels and additions in and around southern Charlotte, NC.  We can assist you to build with confidence, whether you need help getting started with envisioning and designing your space, or already have plans in hand and are ready to build.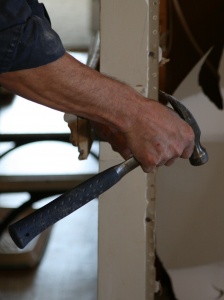 With degrees in civil engineering (BS) and business (MBA), plus decades of experience in carpentry and in engineering, retail, and industrial management, Larry will efficiently oversee and manage every aspect of your project, and will also take the time to personally build or install many of the details with his own skilled hands.  Working with a network of trusted carpenters, electricians, plumbers and other specialized subcontractors, Larry insists on first quality work and a clean, safe, and secure work site.
Wendy's degree in interior architectural design (BFA) and experience in architecture firms and on construction sites enable her to design creatively yet practically.  She
enjoys the challenge that remodeling and adding on entail:  creating new or re-worked spaces that both respect and enhance what is already built, while making your home work better for your living style.
Collaboration between creativity/design (right brain) and engineering/execution (left brain) can be challenging, but after three decades of marriage we've found a way to work together that brings out the best of each other's gifts!  We will bring that powerful combination to your project to make sure it combines architectural excellence and the highest quality construction, delivered on time and in budget.
Alternatively, both Larry's building services and Wendy's design services are available independently, if you already have a designer or a builder you prefer to work with.
Fully licensed and insured, we have an "A" rating on Angie's List and a triple-A score with Better Business Bureau.  We can furnish a long list of satisfied clients who will be happy to share with you why Shank Building & Design was the right choice for their project.  Call us today, and let's get started!
To find out how we work, click here.